Joined

Dec 15, 2014
Messages

667
Reaction score

1,073
Location
I did it.
I converted my 2 P90 SG that had previously been converted from a 2 humbucker SG, into a 3 P90 SG.
It needed to be done. Large guard, P90's, witch hats, pure 60's.
Saw a thread on another forum a couple weeks ago about Gary Clark Jr. & his custom shop 3 P90 SG and it got me thinking & gassing. Gibson never made one. I was on a mission.
What could go wrong...
First thing I did was a swimming pool route on the guitar.
Also made a stair stepped insert for the P90's to mount to, avoiding the bars attached to the back of P90.
This insert gives the pickup mounting screws a little more wood to grab onto.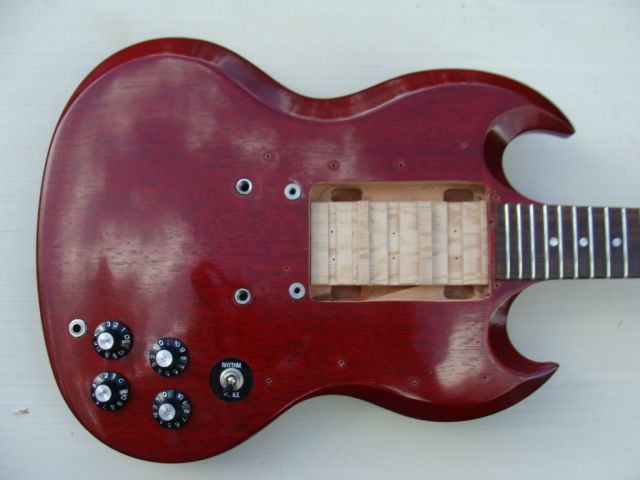 Then made a pickguard from black 5 ply stock.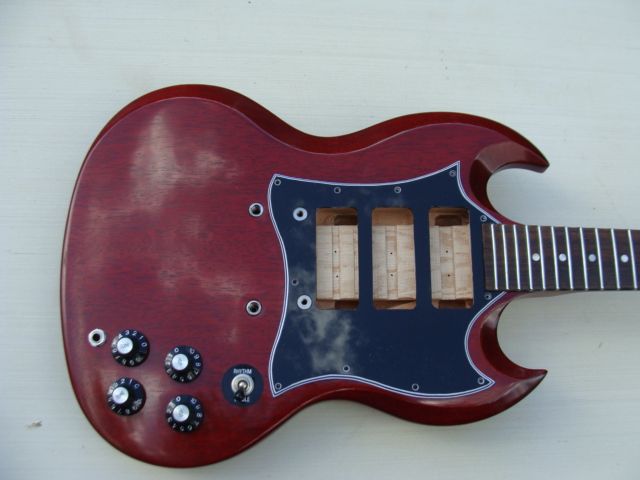 Put it all back together & wired it up. Stuck the Bigsby back on, strung it up and it lives.
We now have a triple P90 SG with Alnico 5 magnets and a RWRP middle pup for hum canceling in neck & middle and bridge & middle positions.
Bridge & neck pickups with the 3 way switch are wired to one set of volume & tone pots, middle pickup is wired to the other set.
Sure like it so far. May play around with some push pulls to do phase reversal and maybe put a pair of pickups in series.